Voluntary Helpers

We Need You!


The Trust is run by the Trust Administrator and a Maintenance Engineer who are supported by over 90 Voluntary Helpers. Our Voluntary Helpers can be involved in various different roles including Boat Turnarounds, Day Trips and Fundraising, although most kindly partake in a variety of these roles when they can.



We are always looking for more people to help and support us.

It's fun, anyone can do it and there's always a cuppa and piece of cake available!

Why not come and join our friendly team in the knowledge that your efforts contribute directly to the enjoyment of disabled, disadvantaged or elderly people?

If you would like to view a couple of YouTube clips regarding volunteering then please click below:
To see Rebecca Bruce talking about Volunteering ~ click here
To see Mike Lang talking about his experiences ~ click here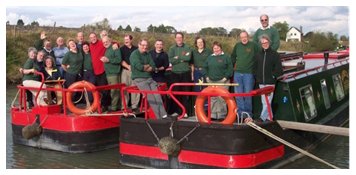 Boat Turnarounds

This is the main area of our work that requires Voluntary Helpers. For each week from March to October, on the following days and times:

Fridays @ Great Bedwyn 9-11.30am
Saturdays @ Great Bedwyn 9-11.30am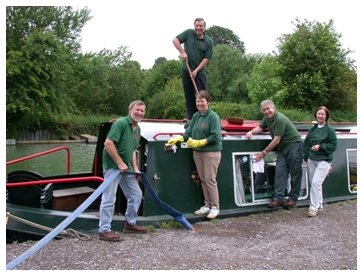 We need for each boat:-
1 Team Leader
2 Engineers
2 Inside Cleaners
1 Outside Cleaner
In addition at each Boat Turnaround we require 1 Base Manager to oversee the morning and 1 Pump Out Person.

Together, each team helps the previous week's group off the boat, cleans the boat inside and out, pumps out the W.C.s and maintains the engine, before the Team Leader then sees the new group aboard.

Upon joining our team, you will be provided with a Welcome Pack to guide you through each role and a Bruce Trust polo shirt so you can be proud to be identified as a Voluntary Helper. The Trust Administrator will join you for your first morning at the Wharf, to introduce you to everyone and show you how it all works.

Day Trips

The Bruce Trust provides a crew of one Skipper and two Crew Members for each day trip. The days usually run from 10:30am to 4:00pm with our crew arriving at the Wharf by 9:45am to prepare the boat. In order to be a Skipper for our day crews, it is essential you have experience managing the boat and have attended a CCBM (Certificate in Community Boat Management) training course. The other two crew members need experience on Bruce Trust boats.

Fundraising

As a non-profit organisation it is entirely due to our dedicated team of Voluntary Helpers that we are able to keep our hire charges to a minimum. However, while hire charges do cover the basic everyday charges such as fuel, insurance, licensing and mooring charges, there are inevitably hidden costs that crop up each year such as general repairs, new parts, painting the boats, surveys etc. In light of this and the fact that we are often working on specific projects to expand and further improve The Bruce Trust, fundraising events are regularly held, many of which are organised and attended by our Voluntary Helpers. See our Fundraising page for further information on how you can help us.

Volunteer Testimonials

My husband, David, wanted to do something in the community to help out - but as we have a young family - what could he do that might involve the children too as weekends with the family are precious these days? The Bruce Trust was the answer and David signed up to volunteer on Saturday mornings at Bedwyn wharf with our eldest son George- who was only 5½ at the time. Both were warmly welcomed along and while David was given jobs cleaning the outside of the boat - George was given very important - but slightly safer tasks indoors - like polishing the brass and cleaning the windows. George loved wearing the lifejacket which made him feel like a proper sailor! Other volunteers were so kind to him and made sure he was involved. George's favourite part of the morning was of course the tea break and I'm sorry to say he got a reputation for being greedy with the lardy cake! Consequently George was given the task of going with one of the adult team to go to buy the lardy cake from the bakery each week. One of the highlights for George was going on the annual volunteer barge trip when he got to hold the tiller for a little while! What lovely memories for George to have. Father and son helped out for two years; what a shame Saturday mornings began to get full of other important things like swimming lessons and now school so that for a few years George cannot volunteer for the Bruce Trust. But one day I hope, as a teenager, he will be able to volunteer once again and revisit his sailor days!
Karina Nicholson

I saw an advert, and there was something about messing about on boats, and helping others that appealed. I really look forward to helping, and everyone is so friendly
Rachel Martin

I help The Bruce Trust because it makes a real difference to the lives of less fortunate people and their families. I enjoy working with the other Voluntary Helpers and I have made friendships

with them and the clients of the Trust. It is an enjoyable way of doing something which I feel is valuable and useful to those less fortunate than myself

.
Paul Eames

I really enjoy volunteering for the Bruce Trust as it is a very enriching experience where you learn to work as a team and get to know different people from different backgrounds. Everyone is really friendly and it has a great working atmosphere. Words cannot describe the feeling when you see the customers getting so excited as they board the boats. It clearly does have a huge impact on their lives and I love being part of that.
Sophie Evans

back to top


We Need You!

To find out more about joining our team of Voluntary Helpers, visit our Volunteer page or contact Chris on: 01380 721279



To find out how you can help us fundraise without it costing you a penny, visit our Fundraising page or contact Rebecca Bruce on: 07789 727493